You've come to the right place if you're looking for advice on some of the best tools you can use to enhance your online web presence! Only products I have tried and personally recommend appear in this small business resource library.
There are probably 20 different tools you can use for any particular task that needs to be done online these days. It can be hard to wade through the noise, especially if you're new to having an online presence.
I love testing out new tools and services. I'll try anything and everything and I have pretty strong feelings about what's the best and what should be avoided. Whether you're looking for a new web host or a graphic design tool, or anything in between, this small business resource library will provide you with myriad options that will help take your business to the next level.
Small Business Resource Library
Domain Registration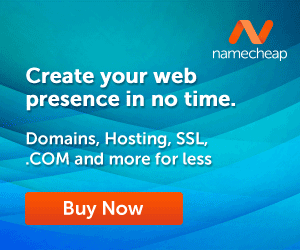 You can pay for years of web hosting up front, but for some reason, you can't prepay for your domain registration. (Your domain is your website address.) Domain registration is a yearly fee you need to work into your budget, but thankfully, it's one of the cheapest fees! Typically, your domain will cost an average of $12 per year or so.
The company I use to buy all of my domains is Namecheap. The reason I prefer them is that they frequently have sales so you can get your first year for less, but also because they offer free WhoisGuard. When you purchase a domain, your private information like your address and phone number, go into a directory of website owners. If someone were to research your domain, they'd easily be able to find that information about you. WhoisGuard makes your information completely anonymous. Some domain companies charge $12-20 per year for this service, but Namecheap now offers it for free on all domains purchased from them.
Many web hosting companies also sell domains and there really is no right or wrong place to get yours. For instance, if you go with GreenGeeks web hosting, they offer the first year of your domain for free. Obviously, I recommend taking advantage of getting that year for free!
---
Web Hosting
Choosing a web host is one of the most important decisions you'll make as you set up your small business website. There are literally hundreds, and maybe thousands, of hosts from which to choose. Over the years, I've spent a lot of time working with various hosts and I have strong feelings about which ones are and which ones are not worth your money. For instance, Bluehost sucks, as well as all other hosts run by EIG.
I know many of you will say that price is one of the most important factors when choosing a host, and while I won't argue with that, sometimes you get what you pay for, as is the case with Bluehost. The three things I look for when evaluating a hosting company include price, uptime (meaning your website won't randomly go down), and great customer service.
With that in mind, there are currently three hosts I feel comfortable recommending in this small business resource library.
Whether you want to set up a new website yourself or you want me to do it for you, the web host I recommend 100 percent is GreenGeeks. There are quite a few reasons I like this company, including:
• One of the only eco-friendly web hosting providers
• You get your domain name free (one less thing to pay for!)
• Great customer service
• Fantastic up-time (meaning your site won't randomly go down)
• Competitive pricing (starts at $3.96 per month)
• Based in the United States
• 30-day guarantee
• If you're already hosting your website elsewhere, they'll migrate your site to their servers for free
I am a long-time proponent of SiteGround, and while they do still offer fantastic uptime and their customer service, they're no longer my #1 because they've removed some of the bells and whistles that helped make them one of the best web hosts in the business. For instance, they no longer offer free domain names and they no longer transfer all sites to their servers.
Don't get me wrong: SiteGround is a great host. SiteGround is a great company. I don't dislike them like I do some other companies. But, if you want the VIP treatment with a budget-friendly price tag, your best bet is currently GreenGeeks.
This hosting company has been around a long time and they're absolutely one of the best in the business. But, that business comes with a hefty price tag. Since launching their partnership with StudioPress, so all WP Engine users have access to the entire StudioPress repository of WordPress themes, the price tag doesn't seem quite as daunting. WP Engine is pricey but they've also got a stellar reputation so you know you'll be treated well by their customer service team and your site will rarely – if ever – go down.
---
WordPress Website Themes
While I'd love to work with you to get your website set-up, with a little bit of know-how you can absolutely do it on your own. There are some WordPress themes that are actually fairly simple to update on your own. If you want to tackle this on your own, PLEASE make sure that you're picking a theme that is mobile-friendly. You're going to find that many of your customers are looking at your site on their phones or tablets. As a result, it's imperative that your site looks just as good on a mini screen as it does on a full screen.
If you're a DIY-er, here are a couple of the companies whose WordPress themes I recommend checking out.
There's no denying that you'll find incredibly feminine WordPress themes at Angie Makes, but depending on your business, her style could be perfect for you! One of the reasons I recommend this company is that the themes are incredibly easy to customize and the instructions that help you along the way are top notch. If you're really unsure about what you're doing, they will install the theme on your site for just $30.
I once used the Jasmine Modern Feminine Theme. The reason I chose this specific theme was actually the lack of defining characteristics. I liked the design of the site and that it had so much white space, which meant that I could really make it my own so it wouldn't look like a pre-purchased theme.
If you choose to work with me, I will recommend StudioPress Themes because there are tons of different options, they're easily customizable, and they're built on the famed Genesis framework. I know that probably doesn't mean much, but Genesis is one of the most well-known and well-regarded theme backbones out there. As you do your own research, you'll probably find Genesis talked about quite frequently.
Whereas my other recommendation, Angie Makes, creates feminine WordPress themes, the StudioPress themes run the gamut from feminine to business formal. And, of course, they can all be updated to reflect your personal brand and business.
On their own, StudioPress themes are fairly pricey, but there are two ways to bring the pricing down.
Use WP Engine as your website host. WP Engine and StudioPress are now partners, so anyone using WP Engine can get access to the entire StudioPress repository of themes for free!
Work with me to set-up your website. Through a partnership I have with the company, I can get any theme you want for a fraction of what you'd pay the company.
---
Social Media Schedulers
You're busy but you also need to have the appearance of being online and posting to your social media sites regularly. But how do you do that without committing even more time that you probably don't have?
You need a social media scheduler or two.
I've tried a bunch of them over the years (and continue to try new ones regularly), and a couple of the best that I had to include in this small business resource library include:
Buffer is an easy-to-use scheduler that could cover most of your social media needs. You can use it to schedule posts on Facebook, Instagram, Twitter, LinkedIn, Pinterest, and Google+. Buffer is one of the new schedulers that offers direct integration with Instagram, meaning that not only can you schedule your posts through the platform, but they can also auto-post for you!
Buffer has a limited free plan, that includes up to 3 profiles and 10 scheduled posts per profile. For more power, plans cost anywhere from $15-$399 per month.
Good news for those of you running a non-profit: Buffer offers a 50 percent non-profit discount!
This is my latest social media scheduling obsession. It lets you post to Twitter, Instagram, LinkedIn, and Facebook Pages and Groups. Google+ and Pinterest are on the way. You can post something once, or you can set up an evergreen queue of posts that it will recycle so you never run out of content! You can even use the platform to search for content to post because you shouldn't only share your own news.
Click here to try SmarterQueue free for 30 days
If you're going to have a blog portion of your website (and I really suggest doing this because it will help with your SEO efforts, give you an opportunity to go viral, and let people get to know you better), then I recommend checking out MissingLettr. This social media scheduler makes it incredibly easy to schedule unique posts to Twitter, Facebook, LinkedIn and more, up to five years in advance. What makes MissingLettr unique, though, is that it will actually give you unique prompts, so scheduling this far out is a pretty simple process.
Click here to get 50% off any plan for your first three months
---
Email Marketing
They say the money is in the list. Whether you offer a digital product or service or have a brick and mortar, having an email list is imperative. It'll let you stay in regular communication with your customers, which will keep you front and center in their minds.
I don't believe you should spend money until you're making money. With MailerLite, you get a free account until you reach 1,000 subscribers, but even at that point, it's one of the most affordable email services out there.
Don't confuse affordability with a paucity of options, though. MailerLite has some of the same bells and whistles you'll find with more expensive providers, like automated workflows and campaigns. MailerLite also integrates with quite a few other platforms, which will make your life so much easier. Some of their partners include WordPress, Squarespace, Zapier, OptinMonster, ThriveLeads, WooCommerce, Shopify, and Facebook, among others.
If email is going to be one of your primary methods of selling your product or service, you may want to jump right into it with software that's a little more powerful than what you'll get with MailerLite. ConstantContact is the world's most popular email marketing platform and it might be a great fit for you!
As someone who tries out various email marketing platforms for fun, I can tell you that some are much easier to use than others, especially if you prefer to send graphic-heavy emails. Some are really only ideal for text, but ConstantContact has a built-in editor that blows the rest of them out of the water. You can customize your graphics in seconds! If the idea of creating graphics sends a chill down your side, don't worry, there are plenty of ready-made templates you can choose from, too!
ConstantContact also offers A/B testing for subjects, real-time analytics, list building tools, and myriad integrations with other apps.
Click here to test out ConstantContact free for 60 days.
---
Graphic Design
Often, starting a business means wearing a ton of different hats. Unless you have the budget to work with a professional, this can even mean that you're going to be your own graphic design artist. If that fills you with panic, don't worry: There are plenty of tools that make this easier than ever.

Currently, my favorite graphic design program is Stencil. I've used a bunch of different design programs over the years – including Adobe Photoshop and InDesign – but Stencil is hands-down one of the easiest I've used. With one click you can resize the image you've created so that you can have an image that's optimized for all of the different social media outlets. As for graphics, they offer more than a million FREE stock images and icons that you can use in your designs. You can also preview what the image will look like on any of those sites – and even share your images directly!
Stencil also has a library of quotes you can use in your graphics, templates you can use to create your own designs, and offers the ability to upload your own images, fonts, and logos.
While I personally prefer Stencil and use it for my own graphics, there's really no denying that Canva is the leader in this space. Canva makes it incredibly easy to design whatever type of graphic you need, whether it's an image to use on social media, a book cover, or a flyer. They have hundreds of beautiful templates you can choose from and updating them to match your own branding is a snap.
There are a couple of reasons why Canva isn't my #1 pick. First, the program is resources intensive and sometimes causes my computer to freeze. Second, while Canva uses the same free stock photos that you'll find on Stencil, they charge for most images on a per-image basis. That said, my complaints are minor and you'll find many people using Canva for all of their graphic design work.
---
This Small Business Resource Library will be updated regularly. If you have a suggestion or a new tool for us to try, please reach out.